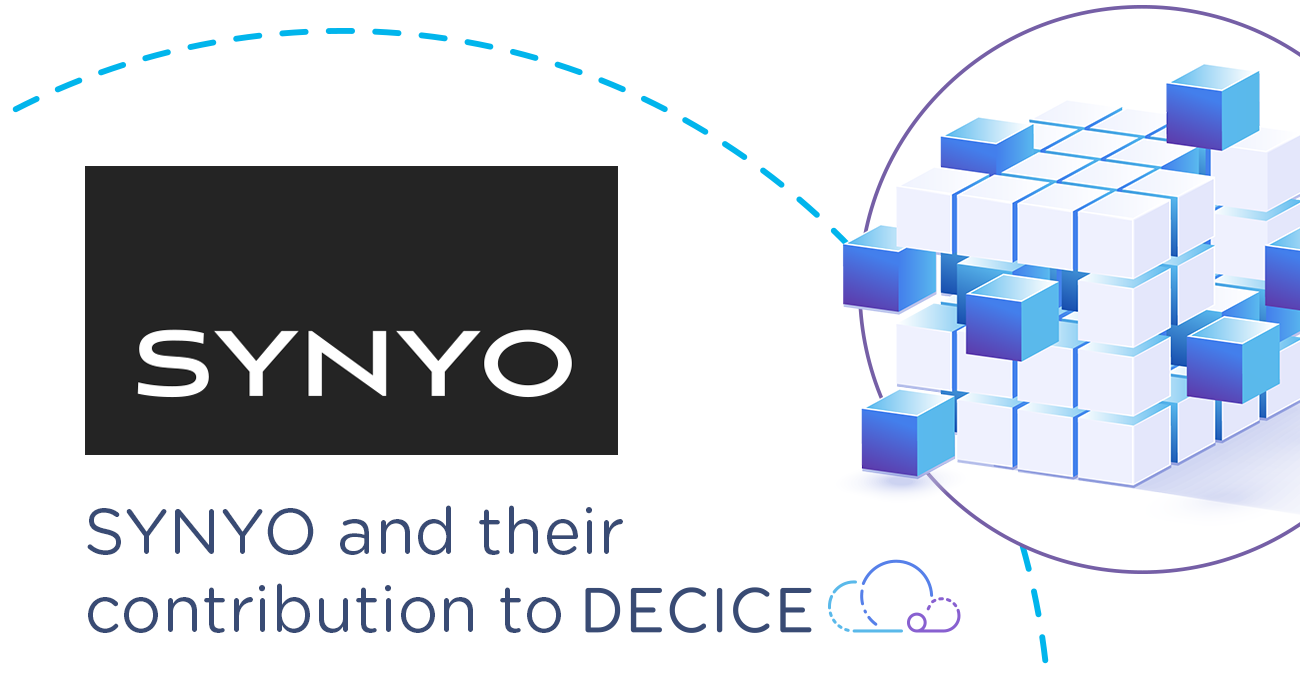 SYNYO communicates and disseminates the DECICE project
As one of the fastest growing research and innovation companies in Austria, SYNYO is constantly searching for the next big challenges to solve together within a multi-disciplinary consortium. With over a decade of experience in communication and dissemination, SYNYO's responsibility in the DECICE project is to communicate and disseminate the project and its results.
About SYNYO
SYNYO GmbH is a highly dynamic enterprise focusing on research, innovation and technology located in Vienna, Austria. SYNYO explores and develops novel methods, technologies and solutions in various domains tackling societal, political, ecological and economical challenges. SYNYO analyses the impact of emerging technologies from different angles and from an interdisciplinary perspective. The team consists of more than 35 high-skilled employees working on national and international projects specialized in various scientific and technical fields like Social Sciences, Safety & Security, Energy & Sustainability, Urban Future, Smart Health, or Digital Systems, Smart Technologies.
Up to now, SYNYO has been involved in over 80 research projects and has created strong management capabilities as coordinator of more than 21 European (FP7, H2020, Horizon Europe, AAL, Urban Europe) projects. Within all projects, the interdisciplinary team of SYNYO has taken a role in the whole project lifecycle including research, requirements analysis, concept designs, technical implementations, programming, validations as well as research dissemination, communication, and exploitation tasks. SYNYO is well connected within the scientific community and cooperates with several practitioner networks.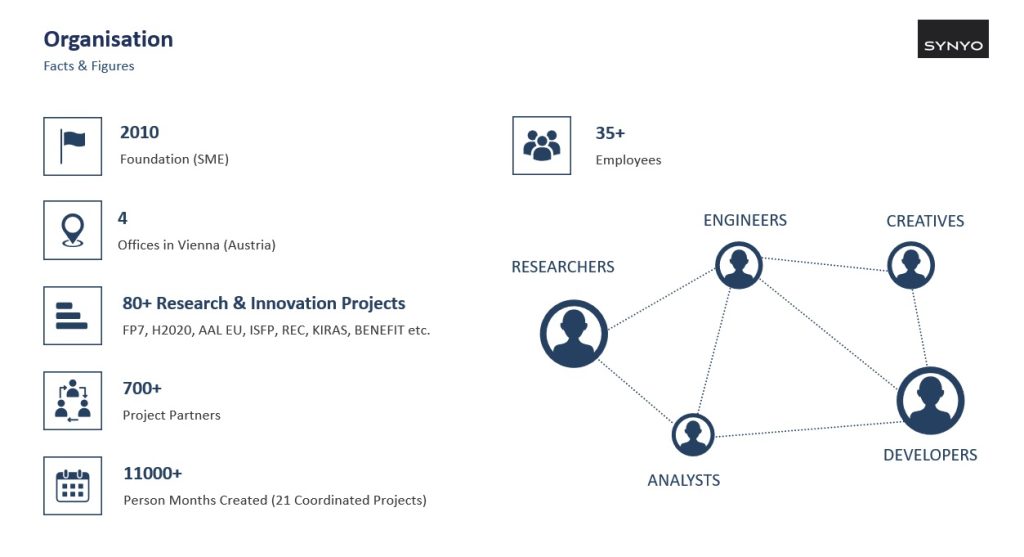 Mission and Values
SYNYO's shared values are timeless and succinctly define the culture of our company.
Deliver high quality performance
SYNYO is committed to deliver excellence in developing and delivering business software solutions by using innovative methodologies and technologies.
Innovation and creativity
SYNYO fosters an environment that encourages new ideas and innovative thinking by building and culture of open communication and interaction at all levels of the organization.
Client-focused approach
SYNYO's success is measured by our clients' success. We collaborate closely with our clients to ensure that our methods and results meet their needs. We make all our resources available to our clients and commit ourselves to their success.
Integrity
SYNYO builds partnership relations based on integrity and trust by taking responsibility and acting ethically.
Collaboration
SYNYO fosters collaboration across practices, industries and levels as well as with our clients and partners.
SYNYO and their contribution to the DECICE Project
SYNYO GmbH is part of the DECICE consortium consisting of 13 partners. Because of their broad experience in the Dissemination, Communication and Exploitation (DEC) field, SYNYO was chosen to be responsible for the most of the tasks in WP6 "Dissemination and Communication". Besides of the work provided by SYNYO, GWDG will focus on the exploitation.
Borders between communication and dissemination are not always clear, but rather fluid. In general, communication addresses a larger audience with giving more general information about the project itself, while dissemination addresses rather specific target groups which might also have a vivid interest in knowing more not only about the project in general but also about its results. With the planned communication and dissemination activities, the following goals are being targeted:
Raising awareness and promoting the DECICE project: Delivering general information about content and scope of the project as well as its results to everybody who might be interested, using appropriate channels, is the basis of all communication activities.
Disseminating the solutions of the DECICE project and their importance for the IT domain.
Reaching out to specific audiences and stakeholders in order to tailor the various outcomes to the end users' needs from the beginning.
Fostering further collaborations and enlarging the network by conducting and attending events, workshops, social media interactions etc. and trying to find other EU funded projects, organizations or companies to collaborate with the DECICE project.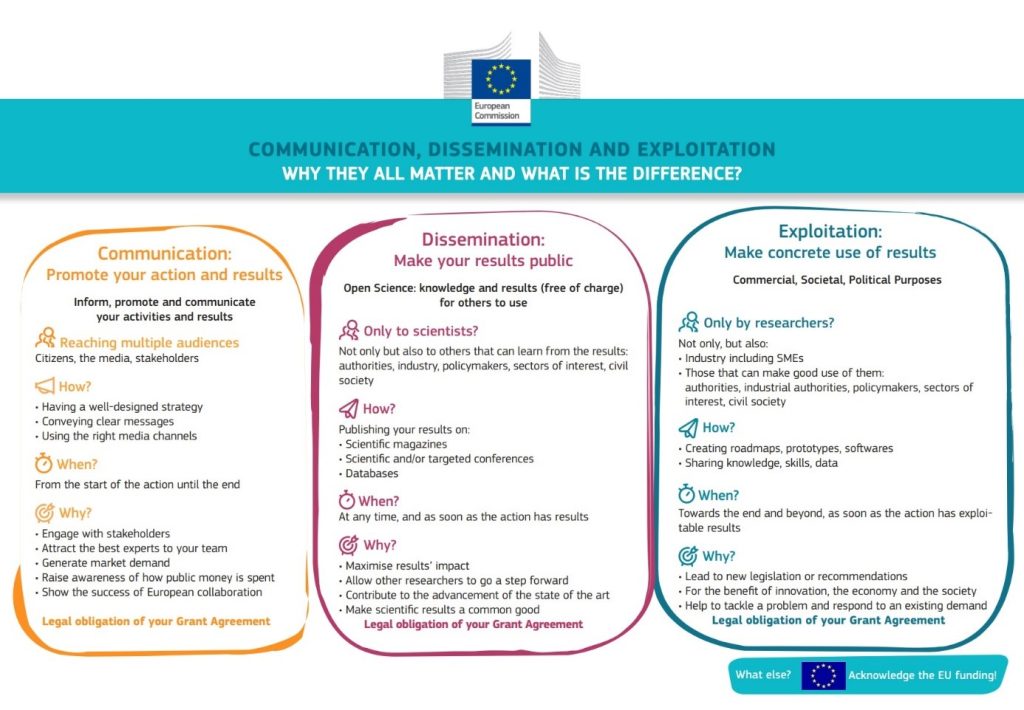 Objectives in the DECICE Project:
Enhance the impact of the project in the long-term through strategic planning of the dissemination, communication and stakeholder engagement activities.
Develop the exploitation and sustainability strategy for DECICE, including individual exploitation plans, and a roadmap to take the developed AI techniques and models to the market.
Develop and implement a business plan to commercialize the project results within 2 years after the end of the project.
Identify stakeholder groups and their dissemination needs; describe and deploy communication instruments, media and channels; liaise with other ongoing initiatives at international level and other EU projects in order to realize synergies and to widely exploit outcomes, findings and lessons learned.
Author: Denise Drossos
Reference 
European Commission: COMMUNICATION, DISSEMINATION AND EXPLOITATION WHY THEY ALL MATTER AND WHAT IS THE DIFFERENCE? ), Available at: https://ec.europa.eu/research/participants/docs/h2020-funding-guide/imgs/quick-guide_diss-expl_en.pdf, accessed on 06.07.2023
Links
Keywords
SYNYO, DEC, Dissemination, Communication, Exploitation