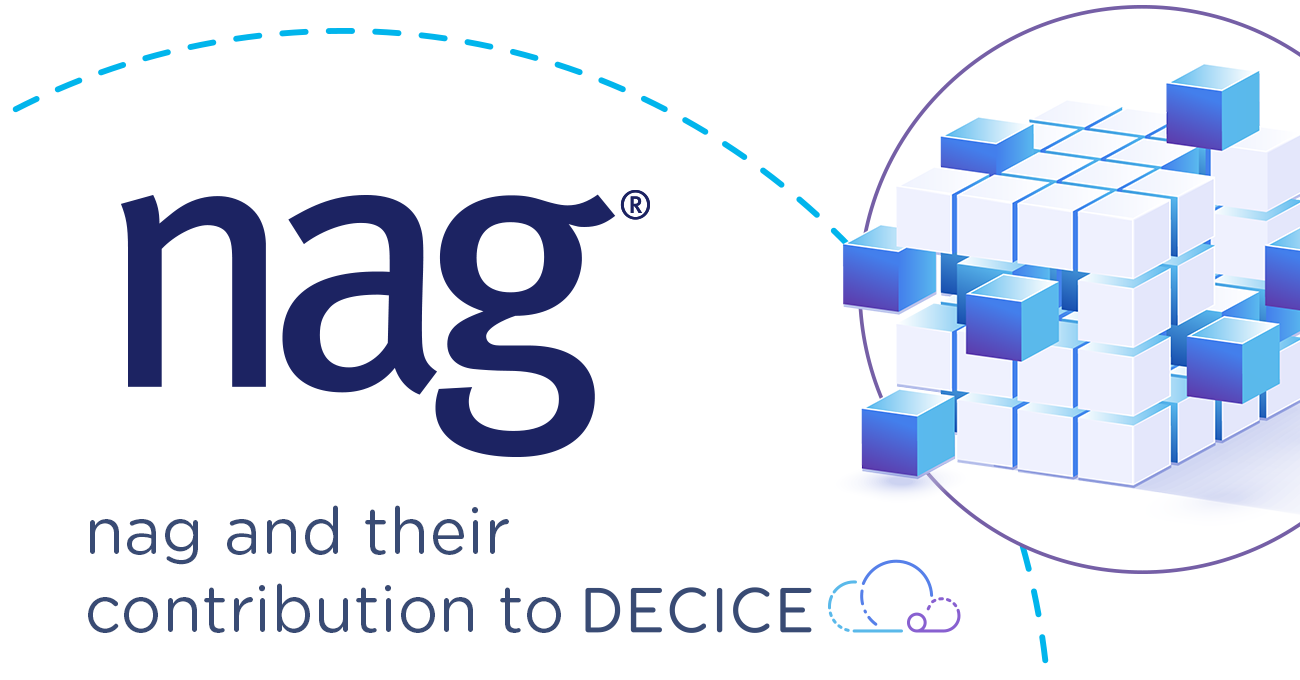 NAG, AI, Digital Twins & DECICE
NAG is pleased to announce its participation in DECICE, the Device – Edge – Cloud intelligent collaboration FrameEwork project.
DECICE is a new collaborative project funded by the European Union's Horizon 2022 research and innovation programme, scheduled to run from December 2022 to November 2025.
The Project has six key objectives:
LEVERAGE A COMPUTE CONTINUUM ranging from Cloud and HPC to Edge and IoT
AI-SCHEDULER supporting dynamic load balancing for energy efficient compute orchestration, improved use of Green Energy, and automated deployment.
DEVELOPMENT of an API that increases control over network, computing and data resources.
DYNAMIC DIGITAL TWIN of the system with AI-based prediction capabilities.
DEMONSTRATE the usability and benefits of the DECICE solution for real-life use cases.
SERVICE DEPLOYMENT with a high level of trustworthiness and compliance with relevant security frameworks.
Cloud computing is growing massively. New applications that require local, specialized computing hardware, in combination with a large-scale back end in the Cloud, such as smart cities and industrial automation, create complex Edge-Cloud compute environments.
These environments depend on sophisticated scheduling of resources to ensure compute is performed and data is available at the right place at the right time.
A scheduler on such a system needs to evaluate:
Hardware specifications
Location awareness
Network connectivity
Security restrictions
Utilization
Energy efficiency
Amongst other factors, to perform effectively. The DECICE project will develop an open and portable framework to provide a scheduler and associated tools for the automatic and adaptive optimization of running applications in Edge-Cloud environments.
A live Digital Twin will be created to capture the properties of the environment and an AI-based scheduler built that dynamically orchestrates job and data placement based on the twin.
NAG, using its expertise in Cloud and HPC, will contribute to the design and implementation of Digital Twins and the AI scheduler; define and use cost-to-solution as a metric for scheduling and optimization; and lead the validation and integration of AI models and software components.
NAG Experts working on DECICE:

Sachin Nanavati – Senior Research Software Engineer
Matthew Street – Senior High Performance Computing Consultant
Adrian Tate – Chief Executive Officer
Eimantas Kazakevičius – High Performance Computing Systems Administrator
Author: Lenny Pitt, Matt Street, Sachin Nanavati
Links

Keywords
Digital Twins, HPC, Numerical Algorithms
Group, AI Scheduler, data placement, adaptive optimization, Edge-cloud