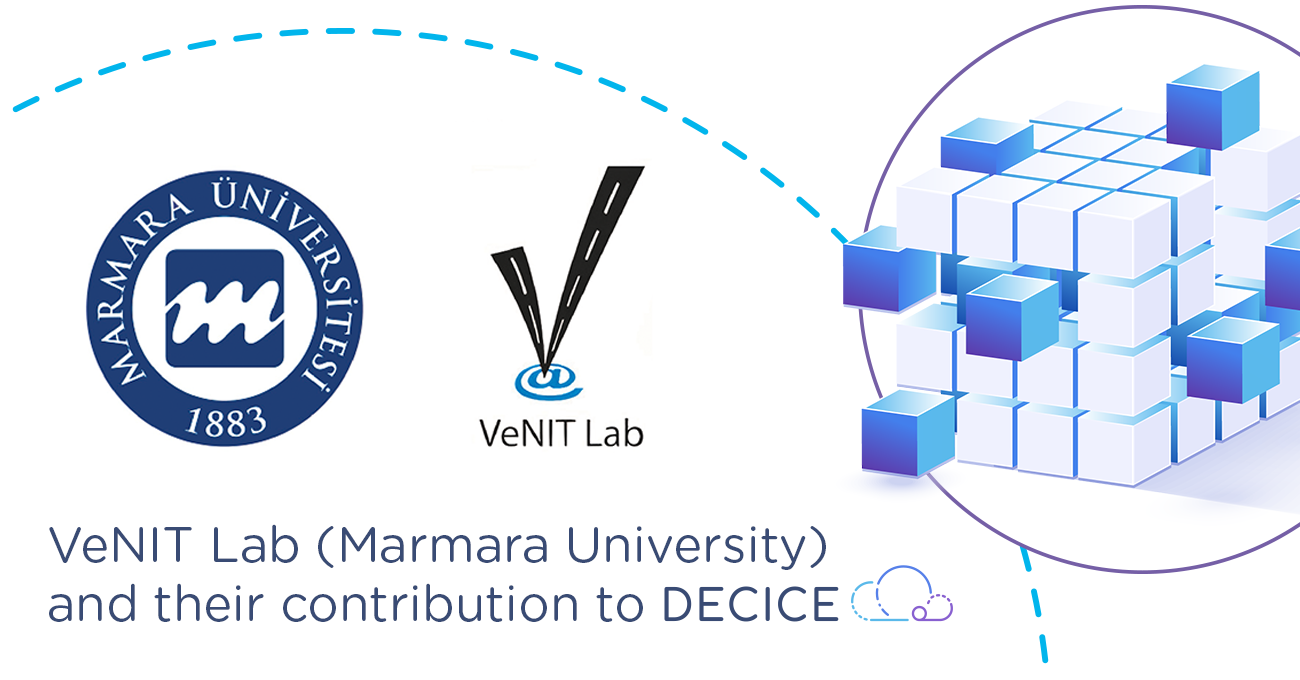 Marmara University's Role in DECICE Project: Advancing VRU Safety in Intersections
VeNIT Lab [1], a research lab at Marmara University, leads a use case in the DECICE project to advance Cooperative Intelligent Transportation Systems (C-ITS) applications for safer and smarter mobility. With the use of the DECICE framework and incorporating it into the university's C-ITS demonstration and testing infrastructure, real-time monitoring, computer vision, V2X communications, and VRU (Vulnerable Road Users, pedestrians, cyclists, motorcyclists, etc.) safety in intersections is being improved. The lab also contributes to the project in data management, digital twin and API development, and optimizing telemetry collection within the computing continuum.
VeNIT Lab is the contributing entity to the DECICE project as a research lab under the body of Marmara University. The lab focuses on conducting research and providing innovative solutions for the problems of the industry, specifically in the Cooperative Intelligent Transportation Systems (C-ITS) and Smart Manufacturing domains. The lab makes use of the knowledge and skills of its researchers in V2X communications, wireless networks, image processing, artificial intelligence, and machine learning. It collaborates with many industrial organizations including OEMs, service providers, and SMEs within the projects that are funded under the Horizon Europe program and national programs. Advancing C-ITS infrastructures, especially in the intersections with the use of the DECICE framework is one of the areas that the lab collaborates on this project.
C-ITS enables real-time communication between all stakeholders including cars, infrastructure, and other devices that are in the scope of urban or rural traffic. By exchanging data and information, these systems aim to enhance road safety, traffic efficiency, driving comfort, and sustainability. V2X communication is a critical element of C-ITS, allowing vehicles, infrastructure, and other devices to exchange information. This information can be utilized in various ways, such as alerting drivers (either automated or human) about potential collisions, and hazards, and assisting for reduced fuel consumption and emissions. 
Increasing safety is one of the benefits of alerting drivers about potential crashes, such as those that may occur at intersections or during lane changes. Cooperative perception (sensor sharing) is another essential aspect of C-ITS, which enables infrastructure and vehicles to share real-time spatiotemporal data collected through their sensors and cameras. With this information, risky situations can be identified such as the presence of VRUs or roadblocks in the road, and evasive actions can be taken accordingly. 
VeNIT Lab plays a significant role in the DECICE Project by integrating the DECICE framework into its existing C-ITS infrastructure. This integration aims to improve real-time monitoring of the environment and enhance the performance of C-ITS applications. As a result of this collaboration, deployed C-ITS services will be enhanced for future research and development. Additionally, VeNIT Lab is responsible for leading, developing, and deployment of the "Smart Intersection with VRU Detection" use case, which focuses on efficiently utilizing edge computing devices for the use of connected and autonomous vehicles (CAVs) and C-ITS in the context of the project. 
VeNIT Lab contributes to other parts of the project such as Digital Twin development, API development, and optimized data and telemetry collection methods for the improved Edge-Cloud Continuum. Furthermore, it contributes to the enhancement of the DECICE framework with ML support.
Cloud-based C-ITS services and applications can enhance traffic/road safety, efficiency, and sustainability through real-time communication between cars, infrastructure, and devices. By utilizing cloud services and applications with efficient resource management, it is possible to fulfill stringent requirements for safety while simultaneously improving energy efficiency. The cloud-based C-ITS ecosystem can also support the development of new and innovative applications, such as intelligent traffic management systems, dynamic routing solutions, and predictive maintenance tools. Overall, cloud-based C-ITS technologies have the potential to revolutionize transportation and make it safer, more efficient, and sustainable by leveraging the scalability, flexibility, and cost-effectiveness of C-ITS services and applications.
Author: Mujdat Soyturk, Bahadir Sarligil
Reference
[1] Vehicular Networking and Intelligent Transportation Systems Research Lab, Marmara University, www.venit.org. accessed on 31.05.2023
Links
Keywords
Smart-mobility, autonomous-vehicle, v2x, c-its, smart-intersection, vru, cooperative-awareness, smart-city, intelligent transportation, edge-cloud continuum, edge processing